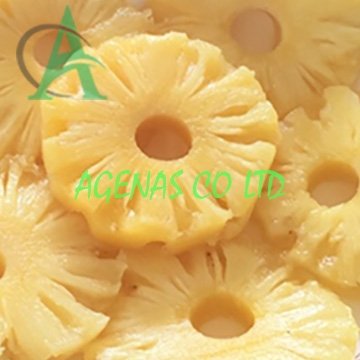 Canned pineapple perfectly taste, golden, delicious pineapple. A great addition to almost any dish. Just peel the lid and eat. Available in 20oz. and 3oz. cans, A10.
Nutritional Value:
Pineapples are a storehouse of several health benefits due to its wealth of nutrients, vitamins, and minerals, including potassium, copper, manganese, calcium, magnesium, vitamin C, beta-carotene, thiamin,vitamin B6, and folate, and bromelain, as well as soluble and insoluble fiber.

Canned pineapple
Specification:
- Material: Fresh Pineapple
- Shape: Slices, half slices, broken slices (1/4), spears, titbits, etc.
- Syrup: Sugar and water
- Brix: 14 - 17 %
- Acid: 0.2 - 0.5 %
- Packing: in Can 30 Oz or 20 Oz, A10
- Delivery time: 20 -30 days

Canned pineapple: Sliced and Tidbit

Processing line of canned pineapple
If you are interested in our products, be free to contact us:
AGENAS Co., Ltd
Mail: thuy.dong@myagenas.com
Telephone: 84(28)-399 11 014 / 84(28)-399 11 156.