A pickle cucumber (gherkin) is a cucumber that has been pickled in a brine, vinegar, or other solution and left to ferment for a period of time, by either immersing the cucumbers in an acidic solution or through souring by lacto-fermentation.
Nutritional fact of cucumber pickle
Most of the nutrients from the vegetable it is made from are preserved as well. From the cucumber you'll get the vitamin K, vitamin A, potassium, and other micronutrients, although water-soluble vitamins like vitamin C may leach out in the pickling process, some amount is retained.

Cucumber pickle 1
A cucumber pickle 9-12 cm contains around 15 Calories, 3.05 g carbs, 258 mg vitamin A, 63.5 mg vitamin K, and 31 mg potassium.

Cucumber pickle 2
Product description:
Product type: Plickled
Origin: Vietnam
Shelf life: 24 months
Certification: HACCP, HALAL, ISO, QS
Product type: sliced/ strip/whole cucumber preserved
Size: 3-6 cm, 6-9 cm, 9-12 cm (for the whole one)
Ingredient:
- Gherkins
- Water
- Sugar
- Acid
- Salt
- Flavour
Taste: Salty, sour
Color: natural
Packaging: in glass jar in carton or depend on buyer's request as drum, Bulk (plastic/wooden)
Delivery time: within 20-30 days from the date of confirming order.

Cucumber pickle in drum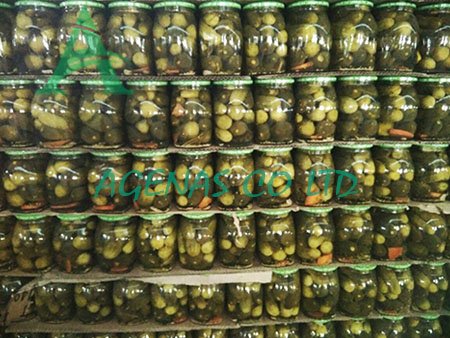 Cucumber pickle in jar
If you are interested in our products, be free to contact us:
AGENAS Co., Ltd
Mail: thuy.dong@myagenas.com
Telephone: 84(28)-399 11 014 / 84(28)-399 11 156.